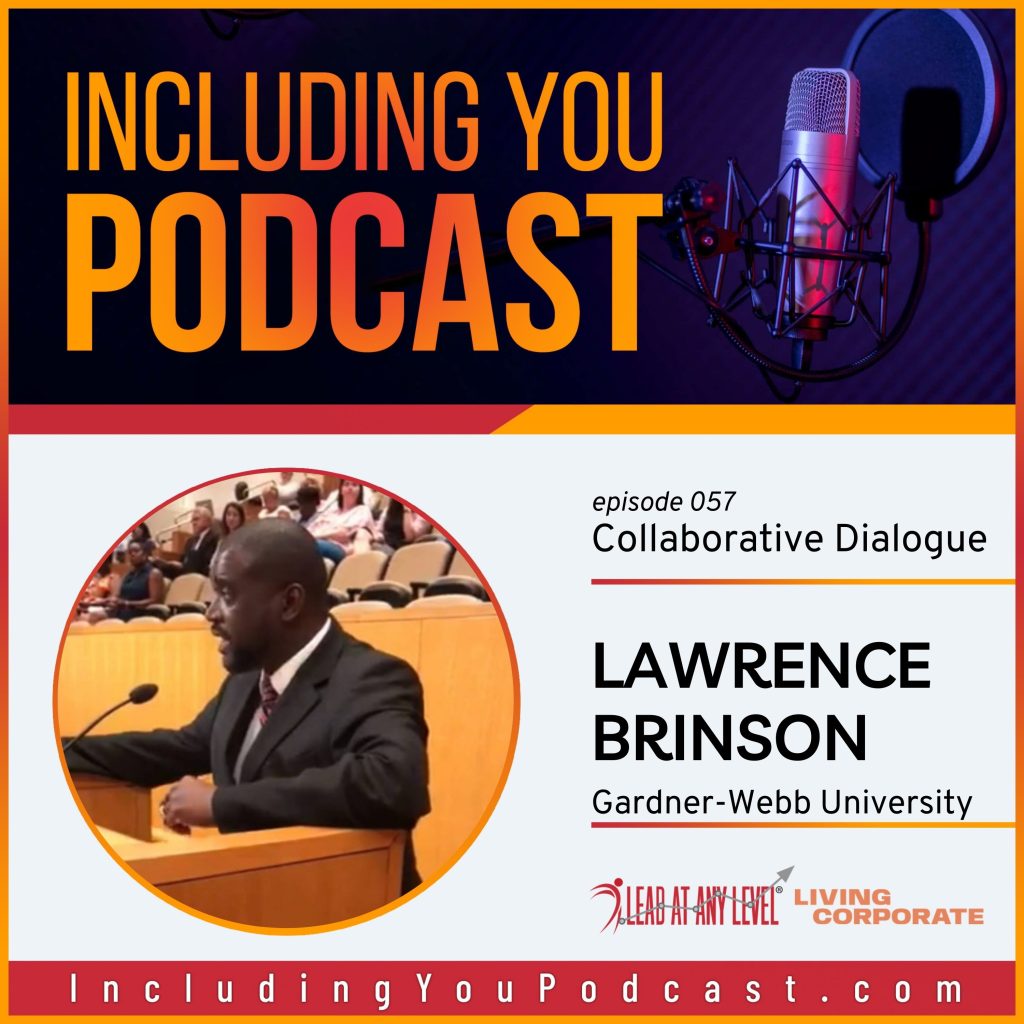 Lawrence Brinson (he/him) is the Director of Diversity and Inclusion at Gardner Webb University. Over 5,000 students attend Gardner–Webb, including undergraduate, graduate, and online students.
Including You Interview with Lawrence Brinson
Full Interview Transcript
Voiceover Announcer:
This is Including You, the new series from Lead at Any Level. Including You features stories from chief diversity officers and other executives who are creating inclusive cultures in their organizations. Our goal is to show what's working and companies just like yours, to give you the tools you need to keep pushing for progress in your own workplace. We want to create belonging and opportunity for everyone including you. And now here's your host, Amy C. Waninger.
Amy C. Waninger:
Welcome back to Including You. I'm your host, Amy C. Waninger, the inclusion catalyst. My guest today is Lawrence Brinson. He's the director of diversity and inclusion at Gardner-Webb University with over 5,000 students, including undergraduate, graduate, and online learners. Lawrence, welcome to the show. I'm so glad to have you today.
Lawrence Brinson:
Thank you. I appreciate the opportunity.
Amy C. Waninger:
So I want to start with why does a college, the size or university, the size of Gardner-Webb, why invest in diversity and inclusion? Why is it an important initiative for your university?
Lawrence Brinson:
The main thing is that when you think about education and you think about the workforce, we supply today's workforce and it's very important and not just a moral or a social issue, but sometimes it's a bottom line issue as well. And when we think about this work and the world that our young people will end up in, this becomes a very significant part of that. And I said young people, but we're in a time now where the college student is not just the 17 to 21 year old. We have veterans. We have the single parent that decided that, Hey, my children are out of the home. I'm going to come back and finish that degree. And so you have current people who are working and people who are looking to get into the workforce. Just to have this platform and this opportunity to engage with difference is very important.
Amy C. Waninger:
And so what are you doing in the university that you're particularly proud of that you feel is really working for your faculty, your staff, and your students?
Lawrence Brinson:
You know what's really working is the collaboration and the dialogue. One of the things that I did when I first got here was to connect the dots, because most times there's a lot of inclusive activity, a lot of inclusive work that people are doing, but they're doing them in silos. And so one of the things that I'm very proud of is the fact that we are collaborating a lot more and being more inclusive and having the people at the table that need to be at the table. And if someone's not at the table, we always ask that question, who's not here that needs to be here? Who needs to be a part of this conversation? Who needs to be a part of this work? We just want to make sure that everyone has the opportunity to participate, collaborate, and make sure we move on all the barriers that exist.
Amy C. Waninger:
So once you notice that somebody's missing from a discussion, what kinds of steps do you take to get them engaged or to break down the barriers that prevented them from being there in the first place?
Lawrence Brinson:
Of course, we send the information out to everyone because you never know who wants to participate and they just haven't been invited or the message just haven't gotten to them. You just have to be consistent about getting that message out. But also you have to lean on the people who are in your circles and ask them to reach out and ask those people to reach out and those people to reach out. And just letting people know that it's always open and you're always invited to be a part of anything that's going on. A lot of times it takes knocking on doors. A lot of times it takes passing out flies. A lot of times it's just cold calling. A lot of times it's looking at staff, faculty and students. And a lot of times what happens is there are people who are in roles and positions where they come in contact with different people every day and they can identify the leaders and people who we want to participate.
And a lot of times people want to, it's just that no one has recognized them or pointed them out. We typically try to focus on, because also people think about who's the loudest person or who's the most vocal, but a lot of times that's not necessarily the person that we're looking for. And sometimes the people we find are the people who are less vocal and want to participate, but they never had the opportunity. One of the things we do is we try to engage people who may have not been the typical person that people always say, Hey, that person's good, that person's good.
Amy C. Waninger:
So with all of your outreach to folks to make sure that their voices are heard, what kinds of impacts has that had in the conversations that you're having, in the decisions that you're making, in the policies or initiatives that you're putting forth?
Lawrence Brinson:
People are more comfortable about speaking up and talking about the issues or concerns or things that they see that may need to be improved. There have been times where I've been in other places where you have discussions, however people still don't feel comfortable about talking about certain subjects or topics, and we typically say a safe space, but is it really a safe space? And being able to have these conversations, providing the opportunities and building trust has allowed for us to build on some of the things that we're doing. And that's the big thing is that people trust that you're going to do what you say you're going to do and you hold yourself accountable. That's a real big piece, just being accountable to what you say you're going to do, because people will tell you hey, I spent an hour in this meeting and gave you some ideas and you never took my ideas and I never heard from you. And how will being accountable to what's being said and to our mission statement.
Amy C. Waninger:
You bring up a good point because if we ask people for their opinion or we ask them to weigh in and they do, and we don't take action on that, or we don't acknowledge at the very minimum, acknowledge what they've told us and tell them why we're going to move forward or why we're not going to move forward or when and then actually follow through, it can cause people to then retreat and tell us less than they would've otherwise. We can actually do a lot of damage in our organizations by asking for feedback and not acting on it.
Lawrence Brinson:
That's right. There's a lot of damage that has happened in the past in a lot of organizations, and typically I tell people also when we have these discussions like, Hey, look, I don't want to hear someone say, we've tried that before, or we've done that before and it didn't work. Because what you do is you automatically shut people down. We can talk about it and say, Hey, what was the issue? What can we do to see if we can make this happen? We can talk about the feasibility, we can talk about moving forward on something, we can talk about is this something that we have the capacity to do? But I don't want to be in a situation where we say, we tried that. It doesn't work. Every day is a new day. Every day is a new day.
Amy C. Waninger:
Can you give us some examples or even one example of an idea or an initiative that you've started that you've implemented because of someone who was in the room that you had to go out of your way to find? What was some innovation or some problem that you've solved by actually seeking folks out and encouraging them to participate?
Lawrence Brinson:
Well, the main thing is, and it's going to sound simplistic, but it's really not, is the diversity dialogues. So we have these conversations and people come to you with ideas and they come up to you and you just expand the conversation. You expand. But one of the things was that from the conversations, because people wanted to keep the conversations going, but they also wanted to create action behind what we were talking about. And we developed what I call diversity teams. And so essentially what we've done, is one of the ideas that kind of turned into something different was that now we have diversity teams on each floor or diversity teams in each building where people can now talk about and bring issues to our attention of what's going on. And also a part of that too was that most people don't engage the same way.
And when you have the diversity teams, it helps you identify and allow people to choose how they want to engage. Some people, they prefer Zoom, some people prefer in person. Some people you engage them on Twitter, Facebook, YouTube, and there's difference in how people engage. That has helped me as far as to, because sometimes it's not that people don't want to attend if you have something. Life happens and life gets in the way. And if you have, and again, talking about some of the students, we have adults, we have people with children, we have children with children. You think about who you're catering to and who you're working for. How can you help them become engaged. And having a Zoom or Twitter or Facebook, people can multitask, some people, Hey, look, I can walk the dog and listen and still participate. I can choose the chat.
I can make dinner. I can get the children ready for bed and still engage in this work, even participate in the post session or the reconnect just by having the opportunity to go back and review and listen to the video. So a lot of times some people get caught up on, wow, we only have 50 people in the room, but think about the people out there on Facebook or the people out there on YouTube. And sometimes the time doesn't work, but if you can preserve the work and people can still come back and engage later.
Amy C. Waninger:
It sounds like you're doing a lot not just to bring people in, but also to meet them where they are and make sure that the content and the messaging and the discussions are accessible and available in a lot of different formats so that folks can choose to engage the way they prefer to. I think that's really important, especially when you're talking about such a diverse stakeholder group. Young people certainly communicate and engage differently than people my age or people a little bit older than I do or older than I am would want to do. And so having a lot of different modalities, a lot of different platforms, a lot of different points of engagement along the way, I think makes a big difference.
Lawrence Brinson:
Yeah, one of the questions I always ask, is this going to be a barrier? Or what is the barrier? How can I remove this barrier from you to help you participate? Because again, there are barriers. Sometimes I think about our commutes. I've talked to someone the other day and they're like, look, gas is $10 a gallon. If you can give me the link, I will be there. And sometimes, and again, everyone doesn't have stable internet, but they can participate. So again, just think about the barriers. Think about the barriers and meeting people where they are. Some people have bigger issues, some people that come to you, their big issue is, I forgot to charge my iPad pencil last night, you got somebody else, hey, look, I'm trying to find out where I can get my next meal or where… And so there's just a gap of issues. And one of the things you try to do is, Hey, what can I do to remove that barrier to help you participate?
Amy C. Waninger:
Yeah. Because whatever barriers people are experiencing, they're very real, they're very present, and they're very urgent to the person experiencing it. And clearly there's a big difference in accessibility and availability and privilege when we're talking about, is it my iPad pencil or is it my next meal? But regardless of which of those things it is, it's top of mind for the person experiencing it, and it can prevent them from being fully present and it can prevent them from contributing.
Lawrence Brinson:
Yeah. Yes. Because you don't ever want to minimize somebody's situation. And sometimes just being there listening to someone, that is a part of when we talk about DEI, that's also gives them a sense of belonging. And what we want to do is, Hey, look, you belong here. We want you to be a part of this. And that lets them know that, Hey, they're looking out for me. They really want me to engage. It's not that they're looking at me as a number, but they really want me to fully participate, and this is the reason I can't fully participate, but they made this happen.
Amy C. Waninger:
I think everybody has this need to be seen, heard, valued, and appreciated. And when we clear whatever those barriers are, it really does make that personal connection. But it also shows other people who are watching, Hey, we're willing to do this work. We're willing to bring you in on your terms, and that can expand who wants to be included, who wants to feel or who feels like they even have a shot at getting through the door? What's next for you in your role? I know you've been in there about a year. You're breaking down silos, you're paving the way for people to come in and have their voices heard. What's the next hurdle?
Lawrence Brinson:
Just trying to improve and build on what we're doing right now, looking at what works and just keep that going and looking at what we need to set to the side. But right now it's just, we're coming out of the pandemic and we never, you won't want to say never, ever. Things are changing. And so the main thing is to make sure to get back to the barriers, to make sure that we're meeting people where they are and removing any barrier that sits in that space for them.
Amy C. Waninger:
There's always a new hurdle. There's always someone who pops up whose needs are a little bit different. We uncover, right? We knock down one barrier and we find the one right after it that we need to clear.
Lawrence Brinson:
Yes. Yeah. Like I said, every day is different. Every day is different. You just have to be prepared and have to be ready, and you just have to be, again, just be welcoming and letting people know that the door… People say it, but you have to be real authentic about it. And that's what people are looking for. Because honestly, when you tell people and you talk to people, and let's say a barrier doesn't get removed, at least they know that you've been authentic. And that does more for anything when it comes to inclusion and belonging than anything that you could ever do, is just be authentic about what it is that you want, what it is that they want, and hey, look, I'll try if it works. If it doesn't, we'll keep going at it. We'll keep going at it. You don't want to over promise and under deliver, but you do want to be authentic in this work. And I'm real proud of that, that we have a sense of authenticity here, and it's just spilling over throughout the university and the community.
Amy C. Waninger:
It makes such a difference too. I think when people have been, maybe they've been left out of conversations in the past, maybe trust has been damaged in the past for them. Maybe not with you, but with someone else in a position of authority. I'm thinking about young people in particular because so many times young people's voices are ignored. They're not heard, they're not seen, they're not valued, they're written off. And I hear this from my own kids, people don't want to hear what I have to say because I'm not an adult yet. Or I have a son who's a young adult and he'll say, I get excluded because I'm not old enough to be of value yet, or whatever that is.
And I think when you're dealing with folks who have been told sit down and wait your turn or worse, that there's a lot of damage control that we have to do to build them back up and welcome them in. Lawrence, I want to thank you so much for sharing your experience, your expertise, and some of the amazing things happening at Gardner-Webb University around breaking down silos, breaking down barriers, and helping people feel included. Thank you.
Lawrence Brinson:
Thank you. I appreciate it.
Voiceover Announcer:
If you've enjoyed this episode, follow Lead at Any Level on LinkedIn and YouTube, then join us for Including You video simulcast every Thursday at noon Eastern. Including You can also be enjoyed each week as part of the Living Corporate Audio podcast series. Available on all major podcast platforms. Learn more at living-corporate.com. Including You is brought to you in part by Lead at Any Level, a boutique training and consulting firm, improving employee engagement and retention for companies that promote from within. Lead at Any Level. Leaders can be anywhere and should be everywhere. Learn more at leadatanylevel.com. Lead at Any Level and its logo are registered trademarks of Lead at Any Level, LLC. The views and opinions of guests on our show do not necessarily reflect the positions of Lead at Any Level, Living Corporate or the sponsors of Including You.
Amy C. Waninger:
That's it for this week's episode of Including You. Be sure to join me next week when my guest will be Dr. Isaac Dixon of Vista Consulting.