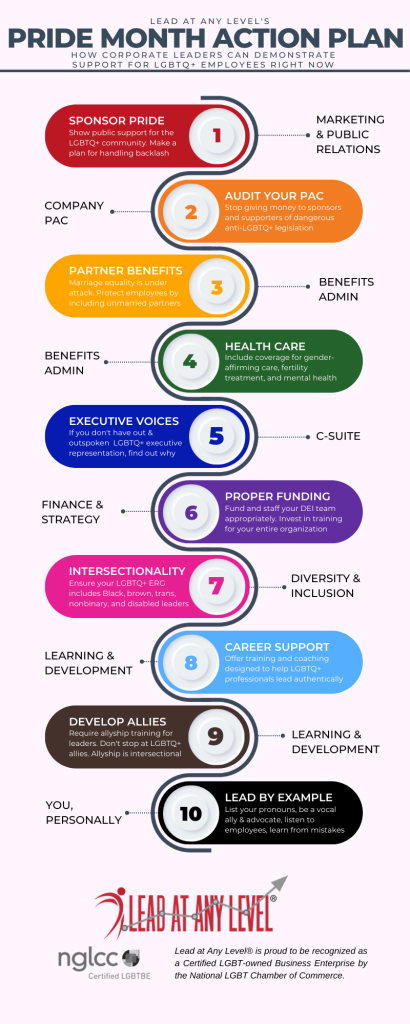 Are you a corporate leader and aspiring LGBTQ+ ally? There is a LOT you can do to support your LGBTQ+ employees and colleagues right now.* What meaningful actions will YOU take this Pride Month?
How Corporate Leaders Can Show Support During Pride Month and Beyond
Be a corporate sponsor of the local Pride celebration.
Review the recipients of your PAC contributions. Stop giving money to sponsors and supporters of the anti-LGBTQ legislation that's showing up in state houses around the country.
Ensure your employee benefits package includes same-sex partners, whether or not the partners are legally married.
Ensure your health care benefits include coverage for gender-affirming care, fertility treatments, and mental health services.
If you don't have executives who are outspoken members of the LGBTQ+ community, find out why. Then fix the problem.
Properly fund and staff the team that runs your company's diversity, equity, and inclusion efforts, as well as your Employee Resource Groups (ERGs).
Remember that people live in the intersection of LGBTQ+ and other marginalized identities. Is your Pride ERG exclusively able-bodied, white, cisgender, gay men (and white women allies)? Find out how you can ensure the space is more welcoming and affirming for Black, brown, trans, nonbinary, and/or disabled queer people.
Offer leadership training, career coaching, and other professional support specifically designed for LGBTQ+ professionals. Help these employees show up authentically so they can fulfill their potential in your organization (or risk losing them to a competitor).
Provide allyship training throughout your organization. Make this training a requirement for all leadership positions. (Don't stop at LGBTQ+ allyship. Remember, allyship must be intersectional.)
Set an example by including your pronouns in your email signature, Zoom window, and social media profiles. Be a vocal champion of your organization's advocacy and allyship work. Listen to your employees, and learn from past mistakes.